Gabion fencing
Gabion fencing is an interesting solution for landscape architecture.
The fence is made of modules being cages of welded wire mesh. Each cage is filled with stones, rock or broken stones (which can also be replaced with broken glass, rubble, earth, etc.).
The primary advantage of gabion fencing is its easy and quick installation. Gabion fences require no foundation structures.
Technical parameters of gabion cages
height:
20 cm to 300 cm
length:
50 cm to 600 cm
width:
20 cm to 300 cm
mesh size:
50×50 mm, 50×100 mm, 50×200 mm
wire dia.:
ø3,0 to ø8,0 mm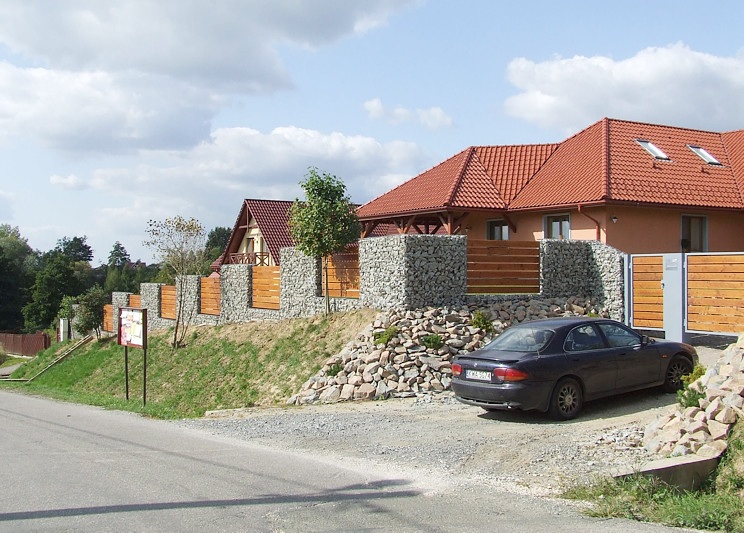 Rock filling of gabion cages
The many colours, shapes and sizes of stones unleash the creative styling and finish of your solution.
Gabion fence modules can be spanned with bays of various types.
This enables the customers to form and style their project environment as they will to achieve appealing visual effects.



Two-colour fencing with wooden bay




Fencing with plain mesh panel bay




Monocolour fencing with wooden bay
Gabion fence parts

round posts

square posts

rectangular bays

round corner brackets

angle corner brackets
Gabion bay sizes
The post spacing is adjusted according to customer's order.
How to mount
The gabion cages are made of galvanised welded wire mesh and can be powder coated. All gabion cage parts are bound with spiral wire.

Each finished gabion cage is then filled with rocks or stones and put together to form the composition.
We take care to ensure a quality and aesthetically-pleasant finish. The strong structure guarantees high durability.

Gallery of gabion fencing projects

`